The DigiTech GSP1101 Gutiar Effects Processor is not just any ordinary preamp; it is designed to work with external amplifiers and rigs to preserve your core tone. By allowing you to switch between external preamps and internal preamps, then adding internal stompboxes, wahs, effects, delays and lush Lexicon reverbs, the GSP1101 is the most versatile rackmount guitar preamp on the planet. The GSP1101 can also be used alone like a standard preamp / processor. It's simple to set up with the setup wizard and easy to dial in with the easy to use interface.
The Digitech iPB-10 Programmable Pedalboard with iPad Integration sets a new standard for guitar signal processing. By harnessing the power of the iPad, it combines the simplicity of a pedalboard with the flexibility of a multi-effects. The iPB-10 unleashes the ability to create and control guitar effects like never before. (iPad not included).Pedalboard SimplicityThe iPB-10 allows you to create your ultimate pedalboard, all on your iPad. Design a pedalboard by simply dragging and dropping up to 10 different pedals, in any order, to each pedalboard. You can even add an amp and cabinet to each setup. With 87 different pedals, 54 amps, and 26 cabinets to choose from, your options are virtually unlimited.
Dunlop Crybaby Rack Wah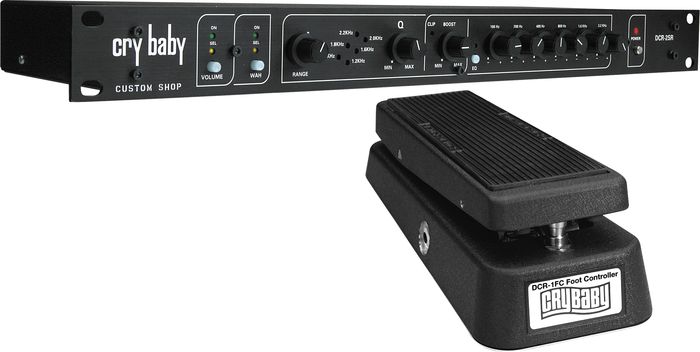 The Dunlop Custom Shop Crybaby Rack Wah has a 6-position switch that lets you select the frequency, sweep range, and the variable Q control which determines the shape of the wah effect. Includes DCR-2SR, DCR-1FC foot controller, and ECB-007 24-volt AC Adapter.
[
back to top
] [
back to Quick Navigation
]
Dunlop Eric Johnson Signature Fuzz Face Distortion Guitar Effects Pedal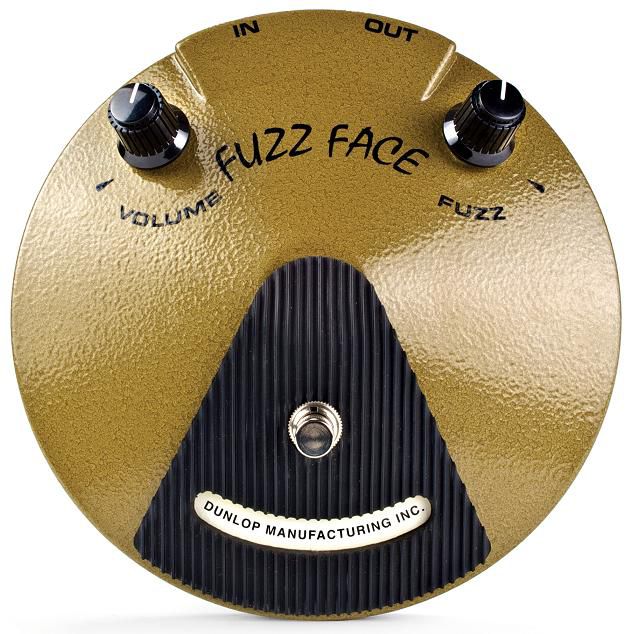 The Jim Dunlop Eric Johnson Signature Fuzz Face distortion guitar effects pedal was built to EJ's precise specifications. When you think about Eric Johnson, you think tone, and the tone he's best known for is his sweet, singing, lead tone. His choice for getting that tone has always been the Fuzz Face. Eric Johnson worked closely with Fuzz Face guru Jeorge Tripps to create his signature pedal. It is inspired by EJ's prized personal Fuzz Faces and is built to his incredibly strict specifications, featuring hand-selected BC183 silicon transistors (for higher gain), custom reproduction 68-69 knobs, and a vintage-style hammertone finish.
[
back to top
] [
back to Quick Navigation
]
Dunlop EVH95 Eddie Van Halen Signature Wah Guitar Effects Pedal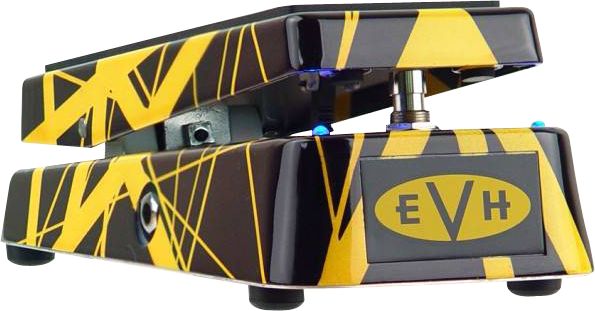 The EVH95 Signature Crybaby Wah Pedal is a member of the celebrated EVH Signature Series that was developed after intensive design collaboration with the legendary guitarist Eddie Van Halen. Early on in the process, Eddie handed over his "Holy Grail" Crybaby--a standard Crybaby customized in the early Nineties with a more vocal-like, High Q inductor and a wider frequency sweep. Amazingly, Dunlop found that over the years Eddie's unique wah style, which uses mostly the middle range of the effect pedal's action, had carved his own curve into the pot's resistive element, making the middle range even more defined and increased the low end sweep. Dunlop's clones of the worn-in pot and hand-selected inductor give the EVH-95 the same "Holy Grail" feel and tone, and it's true hardwire bypass, dual bright blue bypass LEDs, and graphics based on the black and yellow-striped guitar featured on Van Halen II round out this EVH-approved Crybaby Wah Pedal with a voice and look all its own.
[
back to top
] [
back to Quick Navigation
]
Electro-Harmonix Hog Octave Generator/Synthesizer Guitar Effect with Expression Pedal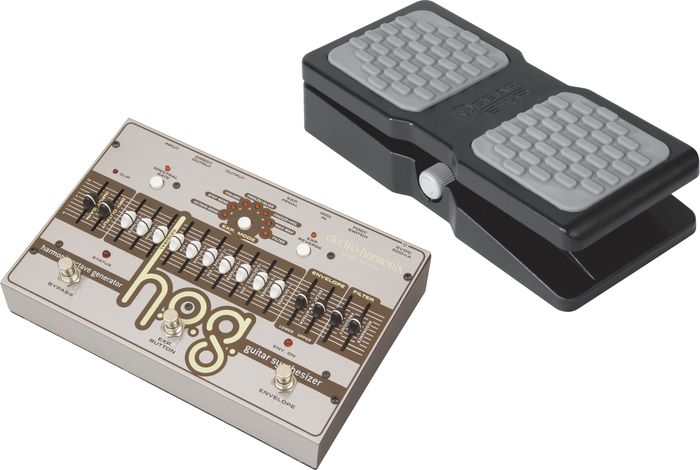 Blast off to a whole new universe of sounds with the Electro-Harmonix HOG, a polyphonic guitar synthesizer with NO special pickup required. It gives you complete control of up to 10 interval pitches including fifth and third intervals, glistening filter sweeps, and insane pitch bends. Dedicated filtering and envelope control, with numerous setup options, make the HOG a must-have performance instrument.The HOG can simultaneously generate multiple octaves and harmonics from your input signal. Whether you play single notes, arpeggios or full chords, the HOG will track every note you play. In addition, the HOG has seven expression modes that enable you to modify your sounds using the included expression pedal, a MIDI controller, or the expression button on the HOG itself. There is also an amplitude envelope and a 2nd order low-pass filter with resonance. The optional EH footcontroller (Item #153342) allows you to store and load six presets.
[
back to top
] [
back to Quick Navigation
]
Electro-Harmonix Classics 2880 Super Multitrack Looper Effect Pedal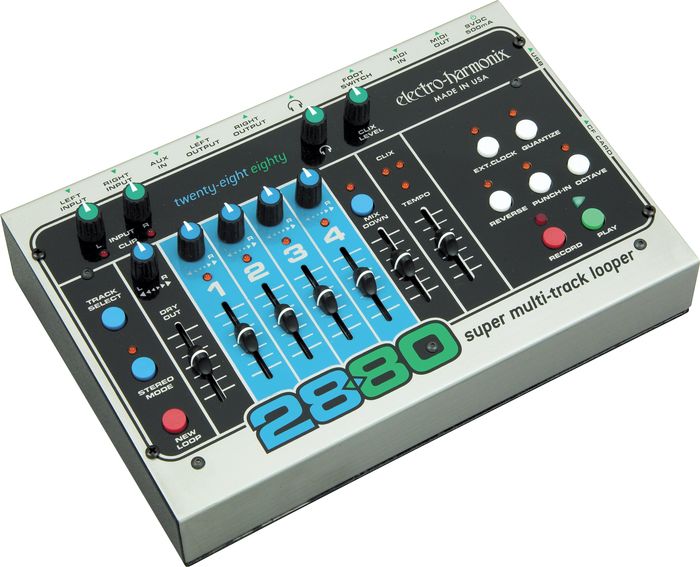 The Electro-Harmonix 2880 offers the familiar control setup of a multitrack digital recorder plus flexible looping capabilities and track manipulation control. Multiple loops, in stereo and mono, can be pitch shifted, reversed and manipulated on four recording tracks. These four tracks can then be moved to two mixdown tracks, freeing them up to be reused. Flexible punch in/out is available on any recording track, allowing the musician to achieve "Looper Perfection" with the 2880.
[
back to top
] [
back to Quick Navigation
]
Ibanez TS9 Tube Screamer Effects Pedal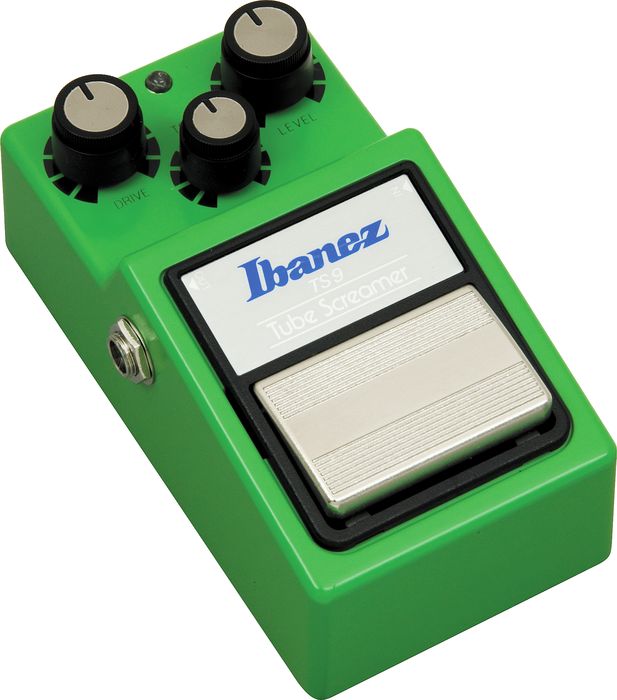 The Ibanez TS9 Tube Screamer is a reissue that's just like the original in so many ways. Same factory, same components, same housing, same famous seasick-green paint, and the same crankin' overdrive that made the original one of the all-time classic pedals.
Guitar Player
called it the best. Plug it in. Crank it up. You'll hear what all the fuss is about.
[
back to top
] [
back to Quick Navigation
]
Ibanez TS9DX Turbo Tube Screamer Effects Pedal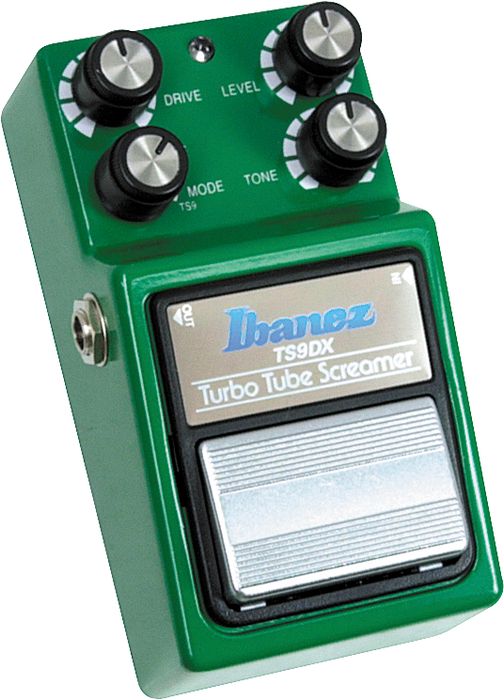 The Ibanez TS9DX Turbo Tube Screamer Effects Pedal features the slightly warmer overdrive of the old TS808 Tube Screamers and also offers 3 new settings for increased low end crunch: +, Hot, and Turbo.
[
back to top
] [
back to Quick Navigation
]
MXR EVH-117 Eddie Van Halen Flanger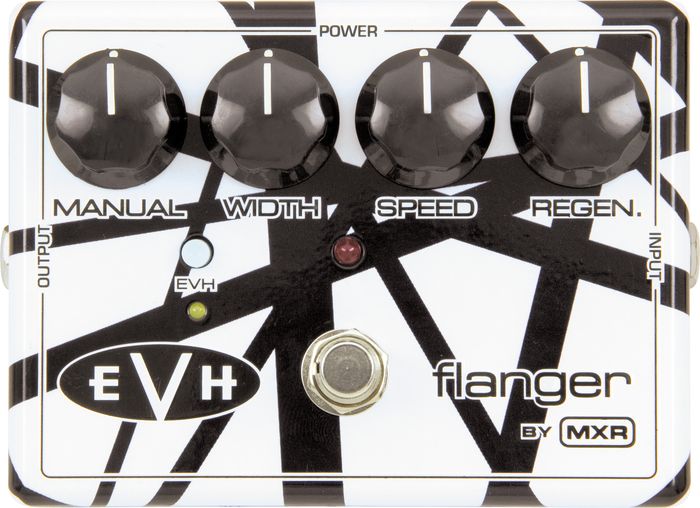 Dunlop and Edward Van Halen have collaborated to bring back the classic tone of the MXR Flanger that powered timeless Van Halen tunes like "Unchained" and "And the Cradle Will Rock." The result of their effort is the MXR EVH 117 Flanger, a stompbox with the same bucket-brigade technology that provided the sweeping, whooshing magic of the original. This updated model comes with the EVH Switch, which instantly calls up Eddie's "Unchained" sound with the exact settings used to get the original guitar tone.
[
back to top
] [
back to Quick Navigation
]
MXR Custom Shop CSP028 Vintage Dyna Comp Guitar Effect Pedal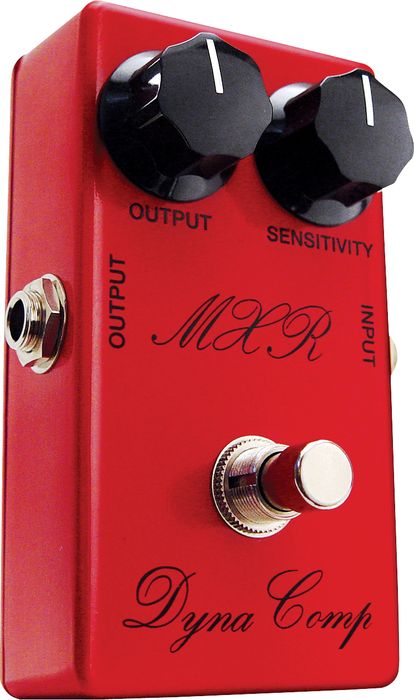 In the quest for ultimate tone, a compressor is an indispensable ally. And the MXR Dyna Comp that was produced in 1976 has long been regarded as one of the ultimate stomp box compressors ever made. There's something inherently musical in the way this compressor pedal "tightens up" a guitar signal, raising the volume of quiet notes and leveling off peaks to create rich, full bodied sustain. From country twangers to metal monsters, guitarists have long relied on the MXR Dyna Comp pedal to make their riffs stand tall in any live or studio mix. Now the MXR Custom Shop brings back that highly sought-after sound with the '76 Vintage Dyna Comp. Meticulously researched and superbly crafted, the compressor pedal features the exact same circuitry used in the original 1976 Dyna Comp, identical in its component layout, silkscreen and handmade wire harness. The key component is the old school CA3080 "metal can" integrated circuit (IC), which yields quieter operation, greater transparency and increased dynamic range.
[
back to top
] [
back to Quick Navigation
]